Welcome to the Frontpage
Written by John Riley
Wednesday, 16 April 2014 17:31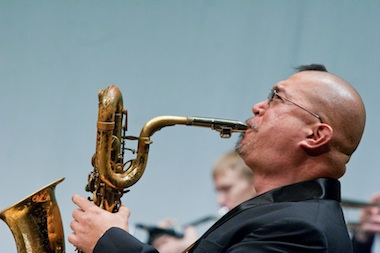 Wed., April 16, 2014 from 2-3 PM Eastern time
WBAI/Pacifica Radio, 99.5 FM or streaming live online at http://www.wbai.org/playernew.html . WBAI live streams are available via a Pacifica app that works on the iPhone, iPhone, iPod touch, and iPad. Links at https://itunes.apple.com/app/id583381890?mt=8
If you miss the show, go to the audio archive any time for a downloadable file at http://www.wbai.org/server-archive.html and scroll down to Wed. at 2 PM.
**************************************************************
Tune in for a one-hour retrospective and tribute to Fred Ho, the intensely innovative revolutionary Asian-American composer, director, saxophonist, author, theoretician, and political organizer. Fred died last Saturday at the much-too-young age of 56 after a 7-1/2-year "war" (as he described it) with Stage 3B colorectal cancer.
In the first half, WBAI "Health Action" co-host Bob Lederer will present some of Fred's remarkable music and speak with two close political colleagues, Diane Fujino and Ayanna R'auf.
Diane Fujino is Professor of Asian American Studies and Director of the Center for Black Studies Research at the University of California, Santa Barbara. She's a longtime radical activist and editor of Wicked Theory, Naked Practice: A Fred Ho Reader, and the author of Heartbeat of Struggle: The Revolutionary Life of Yuri Kochiyama, as well as Samurai Among Panthers: Richard Aoki on Race, Resistance, and a Paradoxical Life.
Ayanna R'auf has been an activist in the Black Liberation struggle since the 1960s, and is comrade/fiancee of Russell Maroon Shoatz, the former Black Panther, political prisoner for 42 years, and revolutionary intellectual whose 2013 book of essays, Maroon the Implacable, Fred Ho co-edited with Quincy Saul.
In the second half, Bob Lederer will replay excerpts of three interviews he conducted over the course of Fred's journey through cancer (co-produced with WBAI producer John Riley). In those segments, Fred outlined his health philosophy, analysis, and some of the specific strategies he used in his uniquely integrative, self-empowered approach to his cancer war, going deeply into the realm usually labeled "alternative medicine."
(Thanks to WBAI producer Michael G. Haskins for ceding the time during which his "Light Show" usually airs.)
Last Updated on Thursday, 17 April 2014 15:44
Read more...
| | | | |
| --- | --- | --- | --- |
| Lynne Stewart and Family on Her Health and Plans | | | |

Written by John Riley

Monday, 03 February 2014 22:45

Interview w/Lynne Stewart & Her Family on Her Health & Plans

Tune into WBAI Radio's Health Action program - part of the WBAI Winter Fund Drive


Mon., Feb. 3 from 11:00 PM - Midnight EST

In the NY/NJ/CT area, you can hear WBAI at 99.5 FM, or stream live at http://www.wbai.org/playernew.html . WBAI live streams are available via a Pacifica app that works on the iPhone, iPhone, iPod touch, and iPad. Links at https://itunes.apple.com/app/id583381890?mt=8

If you miss the show, go to the audio archive any time after the show for a downloadable file at http://www.wbai.org/server-archive.html and scroll down to Mon., Feb. 3, 11 PM, "Health Action" and 11:30 PM, "Feature Stories News Report" (which is pre-empted for this special).

--------------------------------

Tune in for the interview done by Bob Lederer on February 2 with beloved human rights attorney Lynne Stewart, her husband and comrade Ralph Poynter, and their daughter and doctor, Zenobia Brown. Lynne served 4 years of a 10-year sentence on false charges of "aiding terrorism" at the federal prison in Fort Worth, Texas, until finally receiving compassionate release on December 31, 2013. This is an important victory for the movement to free U.S. political prisoners. A year ago, Lynne was diagnosed with a life-threatening cancer that had spread from her breast to her lung, bones, and back. Prison authorities waited three months to schedule her needed follow-up tests and hospital care. Lynne then underwent chemotherapy in the local Fort Worth hospital while shackled to her bed. It took a 9-month mass campaign by tens of thousands to pressure the U.S. Justice Department to finally apply to her sentencing judge for compassionate release, which was quickly granted.

Now 74, Lynne has lost weight and has trouble breathing; doctors estimate her lifespan at 12 months. In this upbeat interview, Lynne Stewart, Ralph Poynter and Zenobia Brown discuss how Lynne has been feeling better since her return home, her plans for a combined conventional and complementary treatment program, including a major nutritional component, and the fundraising efforts underway to cover the large costs she will have to bear for all this -- including a major celebratory event on February 14 in New York City (see below). (Thanks to John Riley for engineering the interview.)

This program is part of the WBAI Winter Fund Drive - please donate to keep the station on the air by calling (212) 209-2950 or donating online at http://www.give2wbai.org/, Become a BAI Buddy -- making automatic monthly donations of $10 or more -- and you sustain the institution, get discounts at museums and other sites and events, and (after donating $25) become a voting member of the station.

For links to archives of recent WBAI and other media coverage of Lynne's release, go to
http://www.wbai.org/articles.php?article=1651

For background info on Lynne Stewart's case and current situation, visit <http://www.lynnestewart.org>http://www.lynnestewart.org.

************************************

An evening of Song and Celebration with Lynne
An urgent fundraiser for Lynne's medical needs

Last Updated on Thursday, 17 April 2014 01:01
Read more...

| | | | |
| --- | --- | --- | --- |
| Vida SIDA Fights AIDS in Chicago | | | |

Written by John Riley

Monday, 03 October 2011 12:24

Tune in to Health Action on WBAI at 99.5 FM for an interview with the ground breaking HIV/AIDS organization Vida SIDA in Chicago run by the Puerto Rican Cultural Center.

Mon., Oct. 3 - 11:00-11:30 PM EST
"Health Action"
WBAI/Pacifica Radio, 99.5 FM, streaming live on http://www.wbai.org

Tune in for this interview done in Chicago with the leaders of Vida/SIDA (Spanish for "Life/AIDS"), an exciting, culturally appropriate HIV/AIDS prevention center in the heart of Chicago's Puerto Rican community, which is also working to open a shelter for LGBTQ homeless youth. Health Action co-producers Bob Lederer and John Riley interview Juan Calderon, Director of Vida/SIDA (at age 25, the youngest head of an AIDS program in the U.S.), and Ricardo Jimenez, Coordinator of Counseling, Testing and Referrals at Vida/SIDA, who is also a former political prisoner incarcerated for 19+ years for his involvement in the movement for the independence of Puerto Rico. For more information, go to http://www.vidasida.org.

Click HERE to Listen.

Last Updated on Thursday, 20 September 2012 01:44
Read more...

| | | | |
| --- | --- | --- | --- |
| International AIDS Conference | | | |

Written by John Riley

Monday, 20 August 2012 14:09

Robin Hood Tax Part 3


Tune in Monday August 20th at 11pm EDT for a report from the International AIDS Conference team. Included are interviews with global AIDS activists fighting for the Robin Hood Tax on Wall Street trades to fund the Global Fund to Fight AIDS, TB and Malaria. Activists are fighting against the Trans Pacific Free Trade Agreement which they say will make it impossible to get newly developed treatments to those in need because of copyright restrictions.

Sexworkers Excluded

Also interviewed is sex worker organizer Mariko Passion http://marikopassion.wordpress.com/ about the exclusion of foreign sex workers from the international AIDS conference because of regressive US laws.

Click HERE to listen. to Part 3 (right click to save as mp3 to hard disk)

Click HERE to listen to Part 2 (right click to save as mp3 to hard disk)

Click HERE to listen to Part 1 (right click to save as mp3 to hard disk)

Last Updated on Monday, 03 February 2014 23:21

Written by John Riley

Monday, 13 August 2012 21:56

Click here to listen (right click and "save as" to download)

Mo. Aug. 13 at 11pm:

On tonight's Health Action we hear part 2 of coverage of the International AIDS Conference about the rapidly developing global Robin Hood Tax Campaign to fund AIDS, healthcare, tackle climate change and create jobs.

Last Updated on Thursday, 17 April 2014 00:58
«
Start
Prev
1
2
3
4
5
6
Next
End
»
Page 1 of 6
Copyright © 2015 healthaction.info. All Rights Reserved.